The U.S. Committee for Refugees and Immigrants Albany (USCRI Albany) Receives $10,000 Grant at Women United's Perfect Pitch
On Oct. 1 with hundreds of people watching virtually, the U.S. Committee for Refugees and Immigrants was awarded a $10,000 grant at Women United's Perfect Pitch virtual event, powered by the United Way of the Greater Capital Region. USCRI competed against Albany Can Code, Schenectady Community Ministries, and the Veterans & Community Housing Coalition in this "Shark Tank" style event to win the grant money for their innovative "pitch." 
The grant will support its Women Connect program, a peer support group for refugee women, which is a proven strategy to help improve psycho-social adjustment and emotional health of refugees through increased socialization and a sense of belonging.
As the Women Connect program will be held online, the grant will help provide cell phones, tablets, Chromebooks and Wi-Fi access as needed, and will incorporate educational elements including the use of technology, help for children to achieve success in school, how to understand and access health care, and the importance of healthy food and exercise.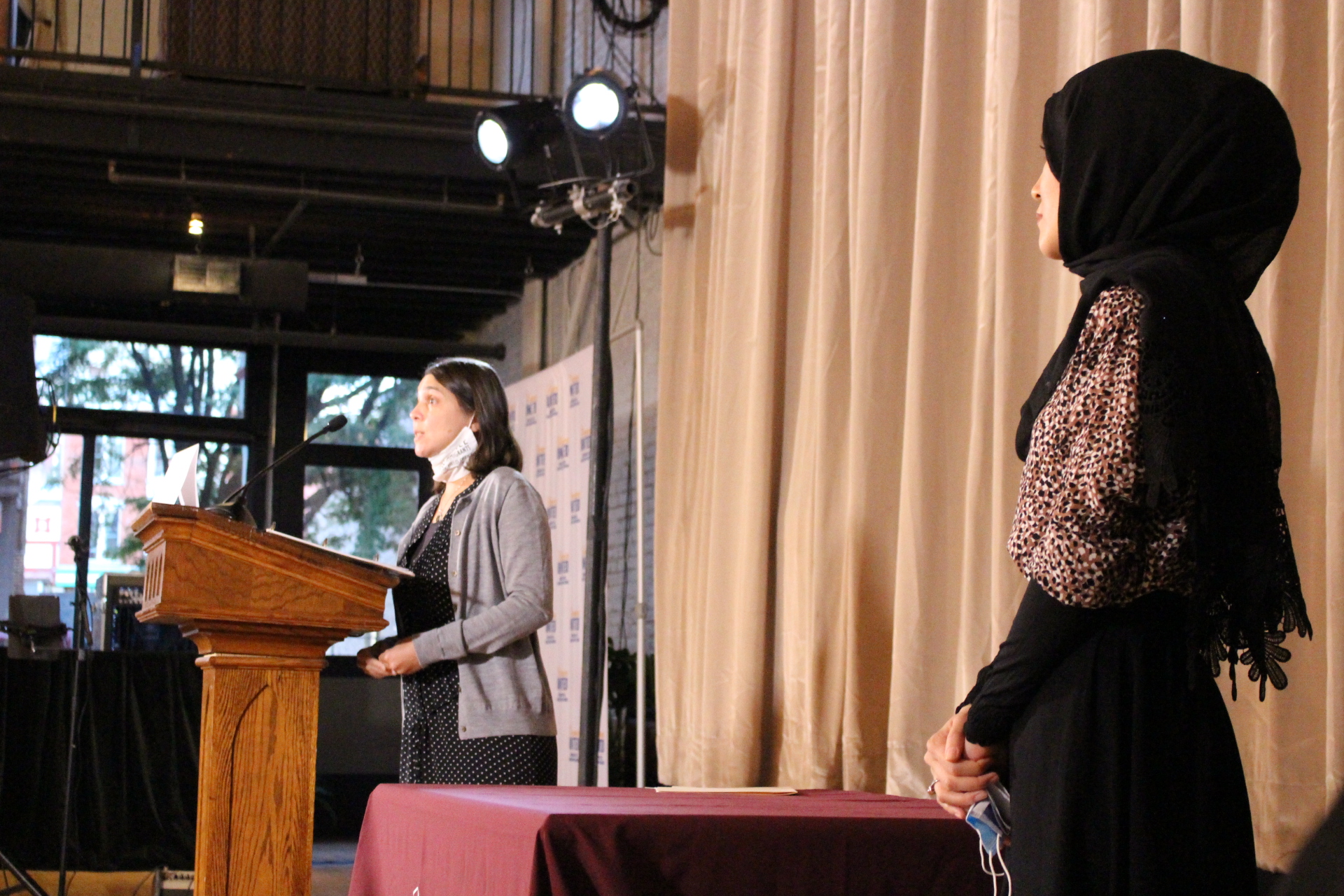 Women Connect meetings will start with 15 minutes of gentle exercise and/or a 15-minute educational session presented by a former
refugee, USCRI staff member, or partner organization. Refugee women will be encouraged to present, and if interested, will be assisted
in developing their presentation. The session will be followed by Q&A and conversation. To prompt conversation, participants will be
encouraged to share something about a challenge they face.
Group size will be managed as needed to facilitate trust and encourage participation, possibly breaking into sub-groups using the Zoom
breakout function. In addition, small-group outdoor gatherings for exercise (using COVID safety precautions) will be encouraged.
Understanding and using cell phones, including the calendar function, will be a key focus of the program. Among other benefits, the
resulting empowerment to make and keep medical appointments has been linked to improved health outcomes for refugees. The
program will also ensure that each participant can make free unlimited calls and unlimited texts within the peer support group.
More about the U.S. Committee for Refugees and Immigrants
The U.S. Committee for Refugees and Immigrants in Albany (USCRI Albany) has resettled more than 4,500 refugees in the Capital
Region, most of whom were forced to flee their home countries under traumatic circumstances. Countries of origin include Afghanistan,
Burma, Democratic Republic of the Congo, Ethiopia, Iraq, Pakistan, Syria and Ukraine. Most of USCRI Albany's clients reside in the
City of Albany, with a small number residing in the larger Albany county or in Rensselaer, Schenectady, or Saratoga counties.
In addition to
resettlement services, USCRI Albany provides services that help refugees integrate into American society, gain and retain
employment, navigate legal issues related to legal residency and citizenship, and access healthcare. Additional programs include
youth mentoring, family strengthening, and elderly refugee support.
The traumatic reasons that refugees flee their home countries are often compounded by years of languishing in crowded refugee
camps where they wait to be accepted by a new country. These temporary settlements often brim with corruption and violence, an
environment that can be particularly detrimental to women. Normal societal structures that support them often break down in this
environment, where they have few rights and are often forced to scrabble against one another to obtain limited resources for their
families.
Once accepted into the United States, their challenges are not over.
Because funding is limited, most are resettled in inner-city neighborhoods with existing challenges of their
own. In addition, because many come from cultures where women have few rights, they must make adjustments that can be both
frightening and exhilarating.
Many refugee women do not know how to take advantage of these new freedoms, or may be discouraged from doing so by the men in
their families.
Refugee women can also experience intense feelings of
isolation, with language barriers exacerbated by staying home to care for children or not being able to find work due to a lack of skills.
These past experiences and current challenges can lead to poor psycho-social adjustment and emotional problems, with refugees
suffering significantly higher mental health problems than other populations. Moreover, health in general is often a significant issue that
can be further compromised by sudden access to cheap, unhealthy foods that lead to weight gain and systemic health problems.
Understanding when and how to access healthcare can be overwhelming, as can understanding doctors' instructions and
the directions for prescriptions and other medications.
On top of everything else, refugees must now face the challenges of COVID-19, including educating their children at home via laptop.
Many refugee women have also had their own education interrupted, as ESL programs and other workshops designed to support them
have moved online. Most have little experience with technology, and very little ability to perform the kinds of online navigation required
for distance learning. With more and more educational and other services moving online, including telemedicine, this is increasingly
becoming an essential skill.