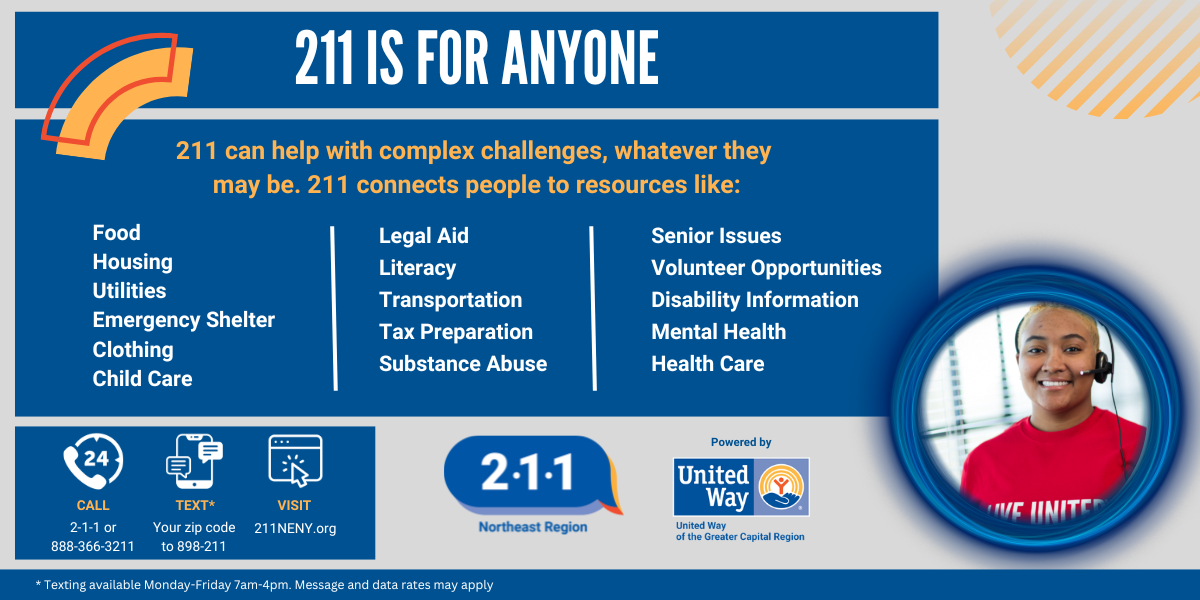 211's vital service meets real needs in real time with the help of community partners. 
Everyone knows about 9-1-1. But fewer people know about 211, the nationwide service for non-emergency life challenges. The kind everyone faces at some point in their lives when they have no idea where to turn but sure could use some extra help. 
Funded in part by local United Ways, 211 is a vital service that connects millions of people each year to help in their communities. United Way of the Greater Capital Region's (UWGCR) 211 Northeast Region (211 NENY) covers 12 New York counties, including Albany, Columbia, Fulton, Greene, Hamilton, Montgomery, Rensselaer, Saratoga, Schenectady, Schoharie, Warren, and Washington.
UWGCR's strong ties with community partners enable 211 specialists to make stronger referrals. They don't just patch folks through to one resource, they're trained to listen, connect, and refer you to services that address immediate and long-term needs, so callers get the best help possible.

Collaboration helps 211 and UWGCR create lasting change in our communities 
Most of the top referrals made through 211 NENY are to one of UWGCR's five Family and Neighborhood Resource Centers (FNRC), providing one-stop, coordinated services to individuals and families seeking help.
 
Our FNRC partners provide a "whole family and person" approach to community support at: 
Mechanicville Area Community Service Center (MACSC)
Schenectady Community Action Program (SCAP)
Schoharie County Community Action Program (SCCAP)
Trinity Alliance
Unity House of Troy 

Here are nine things you might not know about 211: 
211 can help with complex challenges, whatever they may be.
211 connects people to resources like: 
Employment and job training 
Health and mental health assistance 
Child care and after-school programs 
Financial coaching 
Addiction treatment 
Transportation 
Affordable housing and rent assistance 
Legal services 
Disaster recovery 
Utility assistance 
Disability resources 
Veteran services 
Tax preparation 
 
211 is for anyone.
Everyone faces challenges. Job loss, illness, natural disasters and other events can upend anyone's life. In those moments, 211 is a good resource to have in your back pocket. Best of all, the service is available to everyone, regardless of income level. 
Help spread the word to your friends, family, and co-workers, so they are prepared when things take a turn for the worse by sharing these social graphics.
211 is available 24/7/365.
That's every day, every hour, every minute of the year. And if you don't feel like calling, you can text or use the website. 
Call 2-1-1. Available 24/7/365.
Text your Zip Code to 898-211. Available Monday - Friday, 7 AM – 4 PM. Message and data rates may apply.
Visit 211neny.org
Check 211.org to find your local texting number and website.  
 
Starting on February 11, 2023, 99% of the U.S. population has access to 211.
Virtually Canadians also have access to the service. 
 
211 helps tens of millions nationwide each year.
In 2021, made over almost 24 million connections between people in need and local help. In the Northeast Region, 211 top needs included 1960 calls for housing assistance, 575 referrals regarding health, 413 people seeking meal assistance and food pantries, and 358 calls received seeking mental health services. 
 
You'll talk to a real person.
A trained, expert specialist answers the call, helps identify the root causes of your problem, and connects you to local resources. 
 
Translation is available in 180 languages,
making the service available to millions more people than would otherwise have access to it. 
 
You can call to find volunteer opportunities in your area.
The change of seasons are an especially good time to check, as 211 often has a long list of local organizations and families that need help. You can also check UWGCR's volunteer portal at UnitedtoVolunteer.org.
 
211 changes lives.