Celebrating the Capital Region's Champions of Philanthropy
On September 9, 2021, we were pleased to host United Way's Annual Awards at the Albany Capital Center. After a long and difficult year, it was especially meaningful to celebrate the individuals and organizations who invested more than $4.5 million to celebrate the health, education, and financial stability of every person in our community. 
Celebrating the Capital Region's Champions of Philanthropy is a tall order, and our awards ceremony recognized the breadth and magnitude of the community's support of United Way of the Greater Capital Region. Whether you were there in person or with us in spirit, we appreciate you! 
Award Categories Recognizing Outstanding Per Capita Giving During a Workplace Campaign 
Platinum Award 
Barton & Loguidice 
Bechtel Plant Machinery, Inc. 
Bobrick Washroom Equipment, Inc 
Capital District Transportation Authority 
NBT Bank 
New York Independent System Operator 
The Bonadio Group 
The Woodward Co. 
Wright-Pierce 
Gold Award 
Arrow Family of Companies 
Central Hudson Gas & Electric 
Cummins SOFC 
Electric Boat 
Environment One Corporation 
Fidelis Care 
Hinman Straub 
James D. Warren and Sons Inc. 
Milliman 
National Grid 
Pearl Companies 
SABIC 
Wabtec Corporations 
Award Categories Recognizing Outstanding Investment in United Way of the Greater Capital Region through Employee Donor Contributions, Corporate Gifts, and Special Fundraising Events.
Partner in Giving ($25,000 TO $100,000) 
American National Insurance Company 
Bobrick Washroom Equipment, Inc. 
Capital District Physicians Health Plan 
CSEA, Enterprise Holdings 
Environment One Corporation 
Fidelis Care 
KeyBank 
MVP Health Care 
National Grid 
New York Independent System Operator 
Pearl Companies 
Plug Power 
Rensselaer Polytechnic Institute 
SABIC 
Inspirational Giving ($100,000 TO $199,999) 
Bank of America 
General Electric 
Golub Corporation/Price Chopper Supermarkets/Market 32 
Hannaford Supermarkets 
Naval Nuclear Laboratory 
Leader in Giving ($200,00 +) 
Anthem, Inc. 
Capital District Transportation Authority 
UPS 
Special Campaign Awards
2021 Honorary Committee
---
* UWGCR Board Member 
Tocqueville Society Member
---
Kelsey Akins
Wallace Altes
Sheriff Craig Apple
Brian Barr*
Carm* & Sheila Basile
Bob Belber
Dr. John D. Bennett
Chris Bombardier
Ashley Jeffrey Bouck
Hon. Neil Breslin
M. Tracey Brooks 
Misty D. Broughton, Cummins SOFC
Dr. & Mrs. Robert Busch    
Ryan Case* 
Leslie A. Cheu
Circles of Mercy, Inc., Sisters of Mercy
Marcia Cognetta*
LaVonda S. Collins
Anthony and Colleen Commisso
Joseph Corr
Rabbi Matt* & Sharon Cutler 
Becky Daniels
Rachel Bailey* & Martin Dollard
Charles Day*
Dave DeMarco*
Katharine K. Doran
Patrick Doyle
Mark Eagan
Hon. Patricia A. Fahy
William Faubion
Rocky Fittizzi
Peter & Lauren Gannon
Thomas Gianatasio
Dwane and Selica Grant*
Hon. Helena Heath
Steve Heider
Liz Hitt
Jahkeen Hoke
Ryan Hungershafer
Daquetta Jones
Hon. Andrew Joyce
John Kearney*
James Kellerhouse
David Krupski, Regional President, NBT Bank
Hon. Patrick Madden
Hon. Paula A. Mahan
Ruth Mahoney, KeyBank
Chancellor Jim Malatras*
Kate Manley
Staci Marra
Ozzie Martucci Capital Labor Parade 
Hon. Gary McCarthy
Hon. Daniel P. McCoy
Hon. John T. McDonald
Kenneth McGivney
Dennis P. McKenna, M.D.
Hon. Mike McNulty
Lea Montalto-Rook, Big Brothers Big Sisters
Codie Montayne
Thomas & Anne Nardacci
John Nigro
Maureen O'Brien & Paul Vogt
Brian O'Grady* 
Amar & Reena Parikh
Janice M. Parker, Ph.D
Rev. Michael-Aaron* & Amber Poindexter
Scott Powhida
Juliette Price
Chef Yono & Donna J. Purnomo
Florence Reed
Justin Reuter
Dr. & Mrs. Luke Rigolosi 
Paige Rueckert
Ellen Sax, MVP
Hon. Kathy Sheehan
Sheehan Productions
Courtney Skivington-Wolf
Frances Spreer Albert
Congressman Paul D. Tonko
Dr. Alfredo Medina* Jr & Jeannine M. Trimboli 
Susan Ungerman
Andrea Vaughan
Thomas P. Whalen
Andy Willette*
Campaign of Distinction
Congratulations to Hannaford Supermarkets, this year's Campaign of Distinction recognizing a company that went above and beyond to make their workplace campaign a success by using a creative approach. 
"Hannaford understands that it takes all of us working together to build a strong community, where our businesses, neighbors and families can thrive. Our associates and our company take real pride in contributing every day to supporting a healthy Capital Region." 

Andy Willette, Director of Operations, Hannaford Supermarkets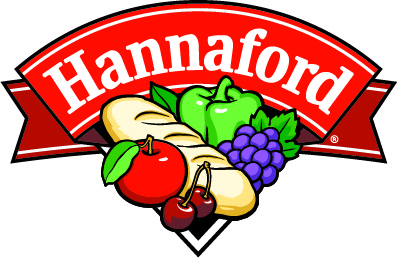 Community Impact Award
Congratulations to Bank of America, this year's Community Impact Award Winner, for their outstanding support of United Way of the Greater Capital Region as a collaborative partner, investor, and thought leader. 
"At Bank of America, we are committed to driving responsible growth and improving the financial lives of individuals and families in the communities we serve. Through our strong partnership with UWGCR, we are able to help address issues fundamental to economic mobility and social progress in our region. Our partnerships with local nonprofit partners are aiding in making real, lasting, and impactful change throughout the Capital Region, and we are honored to be the recipient of United Way's Community Impact Award this year." 

David Cornell, President of Albany/Hudson Valley, Bank of America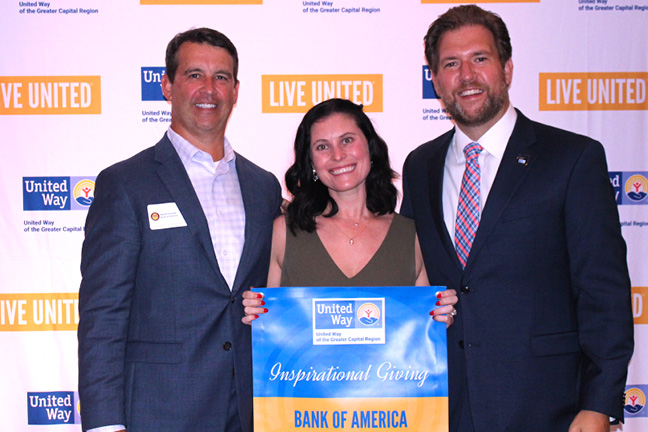 Labor Appreciation Award
United Way and organized labor have worked hand-in-hand for nearly 80 years. Congratulations to Local 97, IBEW (International Brotherhood of Electrical Workers), for their continued support of United Way's fight for every individual in our community. 
"Many of our Local 97 members work in the neighborhoods and even the very homes in the cities and towns served by the UWGCR.  We see the needs in the communities daily, and how those needs are met by the Community Partners supported by UWGCR.  That is why we step up with our donations and why our partnership with United Way is so meaningful to us."  

Daniel Machold, IBEW Local 97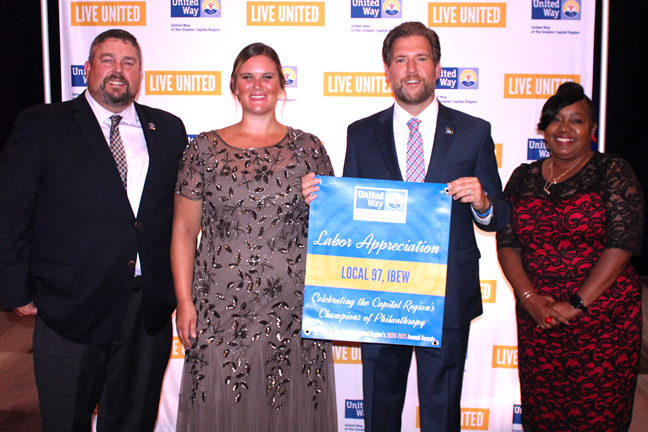 Campaign Champion of the Year
With every workplace campaign, there is one individual who takes on a leadership role within their company to make sure the campaign is a success. Congratulations to this year's Campaign Champion of the Year, Joanne Colosi from NYISO, for leveraging her passion for giving back to significantly grow the campaign at her workplace. 
"Leading the UWGCR campaign at the NYISO is both exciting and rewarding. The generosity of NYISO is demonstrates just how dedicated our workforce is to the communities where we live and work. It brings me great pride to partner with the United Way, an organization committed to improving the lives of those less fortunate, especially during these challenging times."  

Joanne Colosi, Community & Government Affairs Representative, NYISO
President's Award
Chosen and presented by United Way of the Greater Capital Region's President & CEO Peter Gannon, this year's President's Award went to MTX Group, Inc. for sharing United Way's vision to improve the quality of life for everyone in the Capital Region.  
"Giving back to the community is at the core of MTX. In collaboration with the United Way, MTX provides individuals, families, and others opportunities to build a more resilient Capital Region through volunteerism and community service. United Way's Greater Capital Region program inspires our MTX family with the opportunity to support local recovery efforts, ultimately creating positive outcomes centered around happiness, health and economics.  In addition to MTX's impact in the Greater Capital Region, MTX supports a wide range of community initiatives and philanthropy efforts worldwide. MTX is a proud Pledge 1% member, and every year dedicates 1% of revenue, time, and pro-bono services to nonprofits."

Das and Nipa Nobel, Co-Founders, MTX Group, Inc.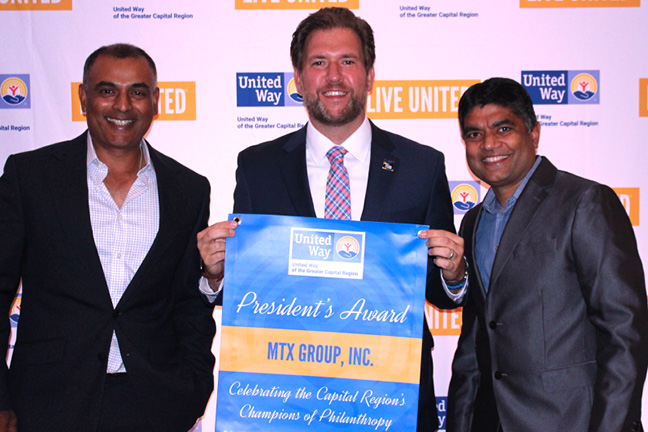 Newcomer Award
United Way's Newcomer Award went to Callanan Industries, who joined our family of companies for the first time this year to help drive our campaign to respond & recover from the COVID-19 pandemic. 
"At Callanan, we understand the importance of community service and pride ourselves on the impact we have made in people's lives as a company. Each year, we continue to work with local charities and organizations and help them in any way that we can with the goal of improving the quality of life where we work and live." 

Don Fane, President, Callanan Industries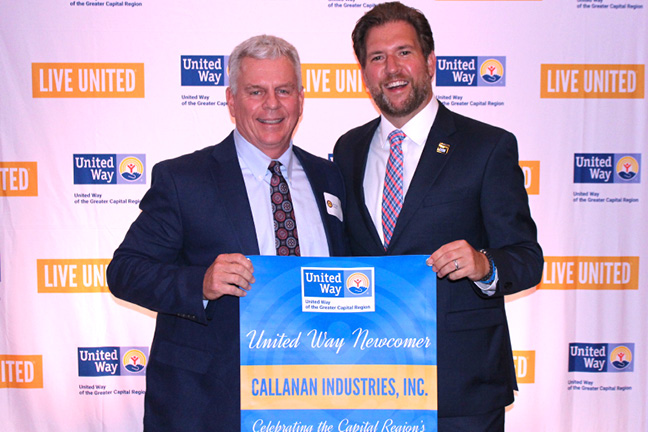 Capital Region Philanthropy Hall of Fame
At Annual Awards, we were grateful to also recognize the individuals in our community who have contributed to a strong culture of philanthropy, and whose generosity has made a lasting impact on the Capital Region. 
The Capital Region Philanthropy Hall of Fame was created to recognize and honor the legendary gifts of time, talent, and treasure of those in our community. In the inaugural year of this award, 2019, United Way was proud to recognize Drs. Shirley Ann Jackson and Morris Washington, and Neil and the late Jane Golub. Last year during a virtual ceremony, James J. Barba joined the Hall of Fame as the 2020 Inductee. 
This year, United Way recognized Father Peter Young as this year's inductee into the Capital Region Hall of Fame. Father Young, who dedicated his life to serving those struggling with addiction, passed away in December of 2020. From his parish in Albany's South End, Father Young founded Peter Young Housing, Industries, and Treatment in 1959, an agency that grew into a statewide initiative to serve those affected by addiction.  
Capital Region Philanthropist of the Year
For the last award of the night, we were proud to reveal this year's Capital Region Philanthropist of the Year. We all know that the Capital Region has an incredible culture of philanthropy, and over the past year, individuals have gotten even more creative and innovative in stepping up to fight for their communities. 
Through a community-driven process, United Way and the Philanthropist of the Year Committee narrowed down nearly 30 nominations to just three, and it was no easy feat. Learn more about the incredible work of the three finalists: Jammella Anderson (Free Food Fridge Albany), Caroline Bardwell (Schenectady Trading Co.), and Dominick Purnomo (Feed Albany). 
At the end of the night, Jammella Anderson was announced as the Capital Region Philanthropist of the Year for her incredible work with Free Food Fridge Albany.  
Thank you again to all those who made United Way's 2021 Annual Awards a resounding success. 
Special thanks to our Annual Awards Sponsors